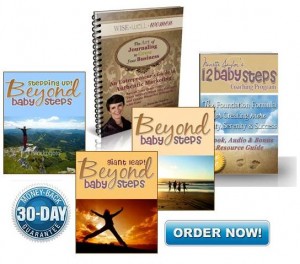 Here they are -- quick, easy ways to begin taking your life back, right now!
On this page you'll find a variety of products-- workbooks, audio e-courses, group programs and more -- simple ways you can begin to receive the support of the 12 Baby Steps Coaching Program.
All include instant downloads and my 100% satisfaction guarantee. Just scroll down to view the product catalog.
To request an application to be a part of the select group of individuals in the 12 Baby Steps Group Coaching Program, please email me directly at nanette@wisewellwomen.com or contact me here.
Just getting started? Try the free, Get UNSTUCK Jumpstart Kit. It's a free, downloadable, quick start kit designed to get you moving -- one baby step at a time -- and guide you toward creating your own personal self-care practice. You'll start building a solid foundation of support and clearing the path toward your future of being in the world in a whole new way.
If you find you need additional information to determine which program is right for you, or you're just not sure, click here to schedule a free clarity session, your personal "First Steps Breakthrough", or simply email me your questions, at nanette@wisewellwomen.com.
I wish for you everything you dream and more!